Pegasus spyware Meaning The question coming in the mind of most people is that what is Pegasus spyware? How does this spyware work? How does spying from smartphones around the world? All these questions are explained in detail here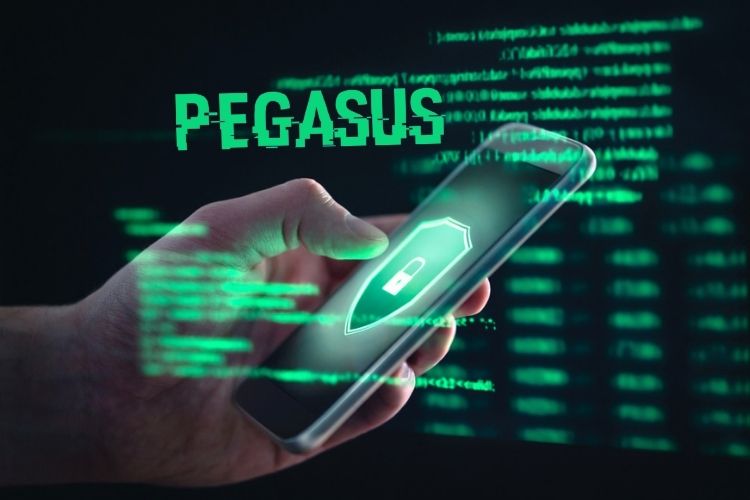 New Delhi, Tech Desk. Pegasus spyware Meaning: Pegasus spyware is once again making headlines. This question must be coming in the mind of most of the people that what is this Pegasus spyware? How does this Pegasus spyware work? How this spyware attacks smartphones and how it is used, all these questions are explained in detail here.
What is Pegasus Spyware?
Pegasus is a dangerous spyware developed by a private Israeli company, NSO Group. Which is used to spy or monitor the targeted user through the smartphone. It does not work like any normal spyware.
According to NSO Group, this spyware has been specially developed for the government in many countries which helps in investigating terror and crime. This powerful spyware first came into limelight in 2016 when it was discovered by a human rights activist from the UAE, who was one of its targets. It was a spear-phishing attack, where hackers use malicious links in text or emails to install malware on the device. iPhone users were considered to be the main target of Pegasus, and take advantage of any bug or flaw in any device. Apple has fixed a bug that Pegasus was using to hack the phone.
This spyware steals the personal information of users
According to cyber security company Kasperkey, "Pegasus is modular malware. Which, after scanning the device, installs a module to read user messages and mail, listen to calls, take screenshots, browser history and contacts information." Basically, it can spy on every activity on the target's device".
Data can also be stolen through apps
Spyware may activate the camera or microphone to capture images and recordings without the users' permission or knowledge. It can listen to calls and voicemails and collect location data. Pegasus can also listen to encrypted audio streams and read encrypted messages, including those from WhatsApp and the Signal messaging app because it steals data before it's encrypted.
How does Pegasus hack the phone?
According to cyber security research group Citizen Lab, hackers use different methods to install Pegasus spyware on any device. In this process an "exploit link" is sent to the target device via message. As soon as the user clicks on this link, Pegasus is automatically installed on the phone.
Early versions of Pegasus used a spear-phishing attack to infect phones with malware. It all starts with the website URL sent to a user via SMS, email, social media etc. Surveillance software packages are installed after an action click on the link and remotely jailbreaking the device. NSO's attack capability has become stronger over the years, making it more powerful and almost impossible to detect or prevent. Awareness is the only way that can help prevent such attacks.
How does Pegasus spyware work?
The Pegasus version can also be obtained through a "zero-click" attack that does not require any interaction with the phone owner. This means that your phone can still be hacked, whether you click on those malicious links or not. Most of these attacks take advantage of deficiencies in an operating system.
An example of such an attack was reported by WhatsApp in May 2019 when spyware targeted a gap in the VoIP stack. By simply making a WhatsApp call on the target device, Pegasus can be installed on the phone, regardless of whether the target has answered the call or not. The hackers made video calls on the target phone through a fake WhatsApp account. During this time Pegasus was installed in the phone through a code.
Pegasus for Android, on the other hand, uses a popular rooting process called Framaroot. Which allows it to steal some data directly from the users.
Why is Pegasus spyware considered so dangerous?
This spyware does not leave any kind of proof or footprint once it is installed on your device, which means that you will not even know about it once the phone is hacked. Along with this, it also works on a single bandwidth. The scary thing is that Pegasus continues to do its work even when the phone is locked.
Pegasus has beaten iPhone security too
Amnesty International said in a report that Apple iPhones claim to offer better privacy and security than their rivals, but they are still vulnerable to "zero-click" attacks. The report elaborates that Israeli firm NSO Group has infected several iPhone models over the years.